Colour is the first thing that affects people's visual observations, it is said that furniture with warm tones will expand the color of your timber, and cool tones will shrink it. This article will outline a few very important bits of advice that will help you find a balance between the tones and the timber in your home.
Understanding The Color Tones of Wooden floors and Furniture
The warm wood color makes people feel comfortable and relaxed, whilst also allowing for people to feel a breath of nature. Darker Wood-colored furniture, timber feature walls, or smaller log decor will exude a peaceful space and a place for escape. Wooden elements always bring people close to nature and are one of the more prominent functions of log-colored furniture. From wooden floors to wooden bookcases, desks, chairs, and furniture decorations, all in original wood color, can make the room look more ecological and healthy. Antique and second-hand stores often sell decor and furniture that you can bring back to life with a bit of timber furniture polish

, in order to preserve their uniqueness. 

Light-colored wooden floors will make the room appear spacious and bright, especially suitable for smaller apartments. The choice of furniture color should be based on the theme and consistency of the rest of your home or apartment. For smaller apartments, light-colored floors are the best, and light-colored, neutral-toned furniture should be the main choice, such as whites and pastels.
Medium-color wooden floors are more versatile. Often, this flooring choice is easy, and no matter what color the furniture is, it can harmoniously be matched. The most suitable furniture color, however, is anything dark. From navy to shades of charcoal or black, the darker mid-tone furniture reflects the class of the homeowner. This gives off a more classic, mysterious, and neat vibe. Keeping the color of the furniture simple means the wooden floors will pop.
What Are The Tips For Color Matching Of Timber Furniture?
Solid wood furniture has purple, black, white, brown, and reddish-brown tones. The choice of furniture is more biased towards three colors, being mainly black, white, and gray. If the walls are wood-colored wallpaper and the flooring is ash wood, the furniture can be black walnut veneer furniture. Such decoration style will look classic, lively, and delicate.
The original wood color is more versatile and can be suitable for most styles of decoration. It makes the room brighter, and therefore space appears larger.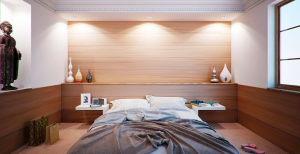 In terms of furniture, white is a common color, a pure color, which can make the room look simple and elegant, but if you like dark solid wood furniture, you can choose the color of red oak or red sandalwood. These colors appear nobler; however, if your room is not well lit, try not to choose dark furniture because it will make the room look darker and dull. Mix and match colors of solid wood furniture and be brave!
Today, with the development of spray painting technology, hardwood furniture has many other colors besides the natural wood color, such as Mahogany, a dark reddish color wood. With the discovery of technology, wood can be transformed into the following colors; wine grapefruit color, chestnut, dark red, red sandalwood, cream yellow, black, and white. Different colors can give people different visual experiences, and different people have different color preferences for solid timber furniture.
Things To Consider While Matching The Colors
The color and what theme you choose, location, wall color, floor color, etc. can significantly affect the choice of furniture color and design. If it is a kitchen, then solid wood furniture is best to choose over a light color. If it is a bedroom, a single-tone room can look simpler and more comfortable, so you need different colors of textured timber furniture to adjust, and different colors can make the room look rich and not so monotonous. For something more edgy and rustic, the weathered timber look will work great.
With dark wood floors, it is best not to choose dark furniture because two similar colors will clash. Dark floors are suitable for white or wood-colored furniture. This combination can have a contrast effect and make space look more organized and well put together.